Elizabeth (Thisbe) Schenk
1921-2021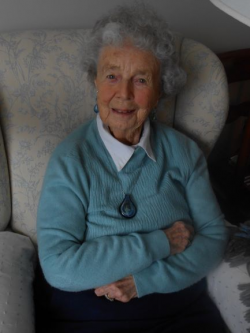 Elizabeth Finlay Schenk
September 3, 1921 – March 7, 2021
Elizabeth (Thisbe) died peacefully, in her 100th year, with her daughters Daphne and Rosemary by her side. She is predeceased by her beloved husband, Ozzie.
For 43 years, as 'people from away', they called Grand Manan their second home. As avid watercolour artists, the island was their source of inspiration and greatest happiness.
A graveside service will take place at the North Head Community Cemetery (Church of the Ascension), in North Head, at 1 o'clock on Thursday, September 16, 2021. All are welcome.
"The sky their promise.
The sea their joy.
The earth their peace."
---
Burial Date
Thursday, September 16, 2021
Burial Time
1:00PM
Burial Location
North Head Community Cemetery