Alice Margaret Harvey
1937-2020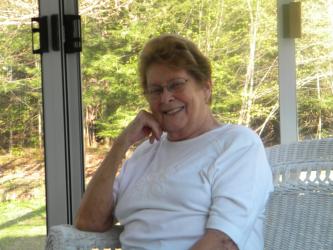 In her 83rd year, Alice passed away at home with her husband Francis (Gramp), son Robert (Bob), daughter-in-law Helen and grandchildren Lauren and Alexander by her side.
Alice had suffered significant injuries from a fall on Friday April 3, the 61st anniversary of their wedding.
She was predeceased by her daughter Christine in 1975. Alice also suffered numerous medical conditions and after such suffering she was ready to meet her Saviour. Alice loved being involved in her community and enjoyed the company of neighbours, friends and family both in the Smiths Falls area and on Grand Manan Island in New Brunswick where she spent her childhood. She was able to experience living in various parts of Ontario as Gramp's career in the Ontario Provincial Police progressed, making new friends in each area that they settled in. She had a diverse career working outside the home as a bank teller, an administrative assistant in an engineering office, an Avon representative and a Welcome Wagon hostess.
Visitation will take place at the Community Life Church, Grand Harbour, Grand Manan, NB, on Monday, August 16, 2021 from 6:00 to 8:00 PM. There will be a Funeral Service, from the church on Tuesday, August 17, 2021 at 1:30 PM. Interment will follow at Maple Grove Cemetery. For those who wish, a donations in Alice's memory can be made to the Kidney Foundation, the Canadian Cancer Society, or to the charity of the donor's choice.
Funeral arrangements are in the care of Ells Funeral Home Inc., 1199 Route 776, Grand Manan, NB E5G 1G2. Condolences, messages of sympathy may also be sent to www.ells.ca or (506) 662-3116.
Service Date
Tuesday, August 17, 2021
Service Time
1:30 PM
Service Location
The Community Life Church, Grand Harbour
---
Visitation
Monday, August 16, 2021
Visitation Time
6:00 to 8:00PM
Visitation Location
The Community Life Church, Grand Harbour
---
Burial Date
Tuesday, August 17, 2021
Burial Location
Maple Grove Cemetery, Grand Manan, NB
---
Requested Charity
The Kidney Foundation, or the Canadian Cancer Society or to the donor's choice