Scott Maynard Guptill
1960-2020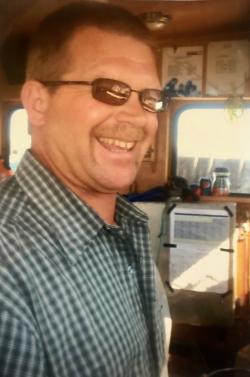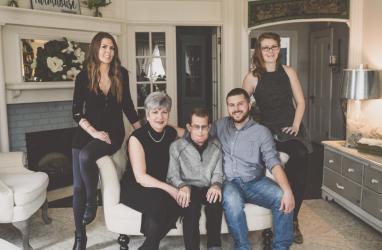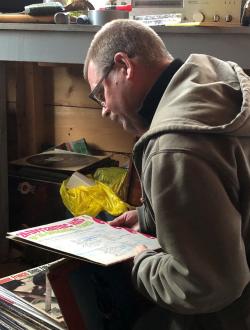 Mr. Scott Maynard Guptill, 59, passed away peacefully surrounded by his family after a courageous battle with head and neck cancer on February 8th, 2020 at the Grand Manan Hospital. Though his birth certificate displays his birthplace as born in St. Stephen, NB May 17th, 1960, he would often proclaim he was from planet Zoltar.
Scott grew up in Grand Harbour until marrying his wife Deborah May Guptill (Griffin), and in 1980 they purchased their forever home located in Woodward's Cove. Scott and Deborah began their adventure into parenthood with their eldest daughter Morgan (Diva Muffin) Guptill (Dan Baird) of Cole Harbour, NS, second daughter Adrienne (Moon Unit) Guptill of Castalia, and son Judson (Dweezil) Guptill (Jennifer Green) of Grand Harbour. Scott's memory also lives on though his three grand children Aleric and Lucia Green; Jasper Green, sisters; Jonelle Hepditch (James) of North Head and Deborah Fleet (Ward) of Fall River, NS, brothers-in-law; Duane Griffin (Carolyn), Randy Griffin (Crystal), and John Griffin (Shelley), nieces; Paige Drake (Richard), Janice Fleet, Alicia Cook (James), Laci Hepditch, Lindsay Craig (Jimmy), Ali Griffin, nephews; Justin Griffin (Lindsay), Jamin Griffin (Jennifer), great-nephew Griffin Craig, great-nieces Charlotte and Isla Griffin; Jessa Griffin, his fur baby Spike (the cat), and countless other cherished family members, friends, acquaintances, and coworkers.
Scott was pre-deceased by his mother Alice Guptill (Green), his father-in-law Gerald Griffin, his spleen in a car accident in Maynard's Chevy Nova, two thirds of his tongue, some lymph nodes, and many pets that he adored over the years. There was not a single grey hair on his head when he passed - I really hope he passed those genes on to me.
The nicknames Scott gave his children were the names of musician Frank Zappa's children. Music was always a passion of Scott's. He was in a band called Zinc. Inc. during his high school years in which he played keyboard, clad in Beatle-esque attire! Family road trips were not complete without Roger Miller, and much to Deborah's disapproval, Sunday brunch was never complete without some 90's grunge, Arlo Guthrie's album Alice's Restaurant or Jimmy Hendrix's Woodstock rendition of "Star Spangled Banner."
In his younger years Scott attended many shows featuring artists such as Tina Turner, Meatloaf, Alice Cooper, and The Tragically Hip (twice he'd brag, giving me the peace sign). Together we attended concerts by ZZ Top, Dweezil Zappa, David Wilcox, Sloan, Alice In Chains, The Pack A.D., MAdM, Monster Truck and Stone Temple Pilots (STP) prior to lead singer Scott Weiland's passing. In 2009 after landing a paper airplane on the stage with our written request inside, STP played "Still Remains"; one of Dad's favourite songs. He had one final listen to that song on his trip back to the planet Zoltar. He would often say, "This is what I like about my rock n' roll life - there's a song for every moment."
Other passions of Scott's included spending time with friends and family, reading, investing, curling, gardening, collecting coins, rat eradication, razzing Mom, frying bacon with no shirt on, and watching his crush Rachel Maddow on Bloomberg. He was also the most meticulous lawn mower and laundry hanger I have ever met. Speaking of meticulous, I'm positive Scott had both OCD and brumotactillophobia - the fear of foods touching. This combination would ensure that at the end of every meal there was exactly one separate bite of each kind of food left on his plate. He was equally terrified of spiders and holiday spending and passed these traits on to his three children. He would proclaim, "Jesus wouldn't be into this orgy of Christmas spending." He was obsessed with the news until starting a news blackout the day President Donald Trump was elected. After 190 consecutive days, curiosity got the best of him and the blackout abruptly ended!
Scott had worked at many island businesses including Little Rock Fisheries, Green Sea Products, MG Fisheries, and Cooke Aquaculture. He was most recently the assistant manager of The Surfside Motel and held many clients as a freelance bookkeeper with extreme attention to detail. Over the years he was a member of The Grand Manan Curling Club, Woodward's Cove Council, Village Of Grand Manan Council, Planning Advisory Committee, and Community Watch. He graduated from the Grand Manan High School class of '78 and New Brunswick Community College Saint Andrews class of '79 with a business diploma.
Scott would often say, "I stopped caring about birthdays after I turned 30 - I'm just happy to have them now." On the day of his 57th birthday he told me that he'd "had a first." Bradley Foote dropped by the house to ask if Deborah was home. He alleged she had missed a spot during a recent haircut. After some deliberation, Scott figured he would test his barbering skills and proceeded to do just that. I bet Bradley was sure to call ahead from then on!
When we were children, we would go for Sunday drives in Dad's Jeep. He read to us regularly including the Harry Potter series and the Lord of the Rings trilogy. I can't imagine what kind of patience it must have taken listening to the three of us fight while he read. He instilled many of his morals and values in us over the years. He beat up the monsters under my bed, (I heard it myself), and he also stood up against the monsters of my adolescent years. I could not be more proud of my father.
Dad, wherever you end up we can only hope you're surrounded by the best music (country excluded), delicious food, and thought-provoking conversation for your intellectually curious self. I'm sure if I could ask where you were going you would still say, "crazy man, wanna come?"
The family would like to extend their gratitude to the caring staff of the Grand Manan Hospital, Hallie Bass NP, Laurida Ells, and countless others who have extended their love and support. For those who wish, a donation in Scott's memory may be made to the Charlotte County Cancer Society, Grand Manan Hospital Foundation, or to the memorial of your choice.
Scott didn't imagine a traditional funeral for himself, instead he preferred the idea of a party with good food, music and laughter, and Pink Floyd's 'Time' as his eulogy.
Scott's Celebration of Life is postponed until further notice. Cremation has taken place. Arrangements have been entrusted to Ells Funeral Home Inc., 1199 Route 776, Grand Manan, NB E5G 1G2. Messages of sympathy may be sent to www.ells.ca or (506)662-3116.
- Diva Muffin out
---
Visitation
To be Announce
Visitation Time
1:00 to 3:00 PM
Visitation Location
Grand Manan Curling Rink
---
Burial Location
Maple Grove Cemetery
---
Requested Charity
Charlotte County Cancer, Grand Manan Hospital Foundation, or the Charity of the Donor's Choice