Morris Macaulay Ingersoll
1925-2020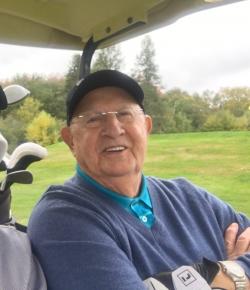 We lost our father Friday, February 7, 2020, 94 years old and a great dad, wonderful grandfather, loving husband and friend of all. We could have lost him 53 years ago in 1967 when his fishing boat blew up off Nova Scotia and he was burned terribly or again 5 years later in 1972 when he suffered two massive heart attacks and his young daughter Ruth had to drive him to the hospital each time. It turned out that quitting smoking made a difference and Ruth discovered the value of a helping profession.
That ended his fishing career, but his convelesance led to his discovery of golf, a life-long passion at which he excelled, enjoyed and entertained hundreds of friends on golf courses at home on Grand Manan , the mainland or Myrtle Beach. His last game was in August of last summer and not one of us, his children, have achieved his level of play yet. His vanity licence plate was "Hole In one" an earned distinction.
He took great care in turning out well dressed and valued a well-polished pair of shoes. He was a great friend of all and had a gift for meeting people, enjoying their company and bringing out their best. We continued to learn from him in that example. His humour and stories of his humour will live on in his children grandchildren and great grandchildren
Morris was born in the family home on King Street, Seal Cove, Grand Manan and lived on that street for the next 84 years. He lived through three major policy changes that positively impacted his life. The first must be medicare. The great health system has served him and his family well all these years. The year before medicare, every penny he earned as a fisherman went to pay for our medical expenses, a child birth, appendicitis, etc. etc.
The second great policy shift was the implementation of the 200 mile coastal zone. As a commercial fisherman, the day his daughter as born he was fishing three miles off Portland, Maine. At the same time Soviet era factory trawlers used to sweep our Bay of Fundy. Today the industry is sustainable and more local.
The third policy change was the great investment in post-secondary education, an option not easily available for him and his brothers, growing up on a fishing island. His four children on the other hand have degrees as follows; BSc, MD; BA, LLB; BEd, MEd; BA, MBA.
He was married to Marie Connors for 65 years and his inscription on her tombstone. "An angel from the Boom Road" defines his love and lifelong devotion to our mother. On the other hand it must be said that she played the straight person role in his humour and they made an entertaining and most hospitable couple.
He is survived by his sister, Barbara Brown of Seal Cove, Grand Manan. His daughter Dr. Ruth Ingersoll (David Ramsay), Saint John. Sons, Gerald (Diane) St Andrews, Gregg (Janice) Memramcook, and Dan (Cindy) of Bedford, NS. He has eight grandchildren, Emily, Jessica and Tressa; Christopher and Sam; Luke, Sam and Max and seven great grandchildren. He is also leaves his niece Arlene, Pennfield and many nieces and nephews, local and across Canada.
He was pre-deceased by his dear dad, Clyde Ingersoll, whose family were immigrants from Salem Mass. and his mother Grace Gordon whose family emigrated from Scotland to Grand Manan via the Annapolis Valley. Morris was the second youngest in the family and pre-deceased by his half-brother and sisters, Bud, Fledda and Helen and brothers Keith, Gordon and Frederick.
Since the passing of Mom, dad has received care and help at Shannex in Milledgeville and most recently at the Loch Lomond Villa. Our thanks and appreciation goes out to the caring staff of the Villa. Morris will be missed by June Trueman and all the friends he made while living there.
There will be a Celebration of Life on Saturday, May 9, 2020 at The Seal Cove Baptist Church, at 11:30 AM. Interment will follow at Hillside Cemetery.
For those who wish, a donation in Morris' memory can be made to the charity of the donor's choice. Funeral arrangments are in the care of Ells Funeral Home Inc., 1199 Route 776, Grand Manan, NB E5G 1G2. Condolences, messages of sympathy may also be sent to www.ells.ca or (506)662-3116.
Service Date
Saturday, May 9, 2020
Service Time
11:30 AM
Service Location
Seal Cove Baptist Church
---
Visitation
No visitation
---
Burial Date
May 9, 2020
Burial Location
Hillside Cemetery
---
Requested Charity
Donor's choice