Hannah Joan Mullen
1947-2018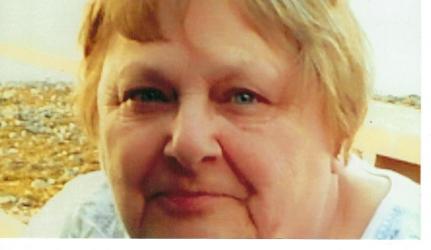 Mrs. Hannah Mullen of Seal Cove, Grand Manan, NB passed away at the Grand Manan Hospital, on Tuesday, February 27, 2018, with her husband by her side. Born in Grand Manan, NB she was the daughter of the late James Guthrie and Mary (Lavigne) Olmstead.
Hannah was a community minded person that volunteered her time, in many organizations on Grand Manan Island. Hannah was the owner of The Fundy House Restaurant and takeout for 36 years. She was on Board of Directors of The Grand Manan Boys and Girls Club for 27 years, having served every position and being the president for the last 13 years. Hannah received The Paul Harris Fellow Award. She was on the School Board, Restorative Justice, started The Health Cart at the school, the annual village Easter egg hunt, ran the school cafeteria, and once a month she would go to the Grand Manan Nursing Home, and make ice cream sundaes for the residents.
Hannah is survived by her husband of fifty two years Sterling Mullen, of Seal Cove, one son Behn Mullen (Shelley Green),three sisters, Camilla Brown, Seal Cove, Ressa Brotheton of AB, Daphne Foote of Penfield, three brothers, Sterling Mercier of Detroit, MI, Eric Guthrie and Mark Guthrie of Saint John, and many nieces and nephews.
Hannah is predeceased by her parents, two brothers Stuart Guthrie and Clarence Guthrie.
There will be a celebration of Hannah's life held from the Seal Cove Baptist Church on Saturday, March 24, 2018 at 1:00 PM with Rev. Peter Smith officiation.
Donations can be made in Hannah's memory to the Grand Manan Hospital Foundation, Charlotte County Cancer Society, The Grand Manan Boys & Girls Club, or to the donor's choice. Arrangements are in care of Ells Funeral Home Inc., 1199 Route 776, Grand Manan, NB E5G 1G2. Condolences, messages of sympathy may also be sent to www.ells.ca or (506)662-3116.
Service Date
Saturday, March 24, 2018
Service Time
1:00 PM
Service Location
Seal Cove Baptist Church
---
Visitation
No visitation
---
Burial Location
Spruce Grove Cemetery
---
Requested Charity
G.M. Hospital Foundation, G.M. B&G Club, Charlotte County Cancer or the donor's choice