Mendell William Frost
1935-2017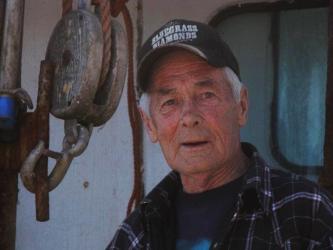 Mr. Chubby Frost, of Seal Cove, Grand Manan, NB, passed away peacefully, Thursday, October 12, 2017, with his family by his side. He was the son of the late Carl and Florence (Flossie) (Brown) Frost. Chubby was born in Deep Cove and grew up below the Brown Hill.
A fisherman his whole life, Chubby was on the water from a very early age. Chubby was a fixture at the wharf, where he will be remembered by his famous whistle and his light-hearted banter with local fisherman. Chubby loved bluegrass music, travelling with family and friends to concerts and blaring tunes from his truck radio while cruising around with Black Dog. An avid hunter, even in his later years, Chubby cherished his time in the great outdoors and at the Sunset, walking the trails scouting for deer. Whether sporting a Santa suit for island children at Christmas time to donning his Dolly Parton wig and high heels at island bluegrass events, Chubby's legendary generosity and zest for life touched the lives of generations of islanders throughout the years.
Chubby will be sincerely missed by his family: two daughters, Teri Lynn Bainbridge and Mendella (Mendy) Calder (Jason) of Grand Manan; five sons, Vincent (Rocky) (Tina) Frost of Taylor Lake, Ricky (Susan) Frost, Farron (Stephanie) Frost, Evan (Debbie) Frost and Troy Calder of Grand Manan. In addition to his children, Chubby is survived by twelve grandchildren, seven great-grandchildren, two sisters, Marie Wallace of Perth Andover and Rosalie Creamer of Saint John, one brother, Theodore (Teddy) (Charlotte) Frost of Grand Manan, many nieces, nephews and friends.
Visiting will take place at the Seal Cove Baptist Church on Sunday, October 15th, 2017, from 2-4 and 6-8 pm. The Funeral Service will be held on Monday, October 16th, at 1:30 pm, also at the Seal Cove Baptist Church.
Chubby's family have requested that in lieu of flowers, donations be made to The Charlotte County Cancer Society, The Grand Manan Hospital Foundation, The Cystic Fibrosis Foundation or charity of the donor's choice.
Arrangements are in care of Ells Funeral Home Inc., 1199 Route 776, Grand Manan, NB E5G 1G2. Condolences, messages of sympathy may also be sent to www.ells.ca or (506) 662-3116.
Service Date
Monday, October 16, 2017
Service Time
1:30 pm
Service Location
Seal Cove Baptist Church
---
Visitation
Sunday October 15, 2017
Visitation Time
2-4 and 6-8 pm
Visitation Location
Seal Cove Baptist Church
---
Requested Charity
Charlotte County Cancer Society, Grand Manan Hospital Foundation, The Cysti or to the donor's choice